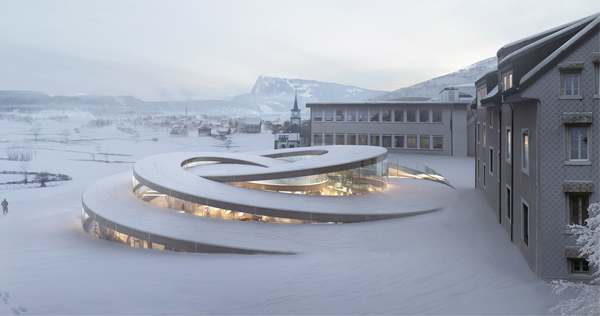 La Maison Des Fondateurs
La Maison des Fondateurs, a new museum for luxury watchmaker Audemars Piguet, embodies the company philosophy: "To break the rules, you must first master them." For over 135 years, Audemars Piguet has produced unique timepieces that demonstrate a passion for innovation grounded in a tradition perfected by generations of their watchmakers. La Maison des Fondatuers takes this idea of innovation within tradition and emerges as an iconic, double-spiraled pavilion nestled within the historic Audemars Piguet campus.

The pavilion is a sophisticated oxymoron much like a signature Audemars Piguet timepiece: striking yet subtle; contemporary yet timeless; and functional yet sculptural. It draws a connection between architecture and watchmaking; both are guided by principals of precision and efficiency, and infuse metal and glass with intelligence and performance. The entire pavilion is column-free: structural curved glass walls form chambers within and illuminate the whole pavilion. Programs arranged in a linear sequence of exhibition spaces lead visitors into the heart of the spiral, back out through the second spiral, and finally into a new connection to the original Audemars Piguet workshop. The narrative ends as a reminder of company?s profound attachment to its origins, after a journey symbolizing its independent and avant-garde spirit.

The roof of the museum is designed as a single sheet of metal that is continuous in plan, but variable in section. Appearing as an incision in the landscape, the roof emerges from, or sinks into, the topography to reveal various spatial experiences that place visitors vis-à-vis with Audemars Piguet watchmakers, whose workshops are situated along the spiral as well. The gallery is thus turned into a living exhibition, an interactive and immersive experience performed in real time. The spiral becomes a storytelling device, relating the story of Audemars Piguet in a dynamic interweaving of past and present.