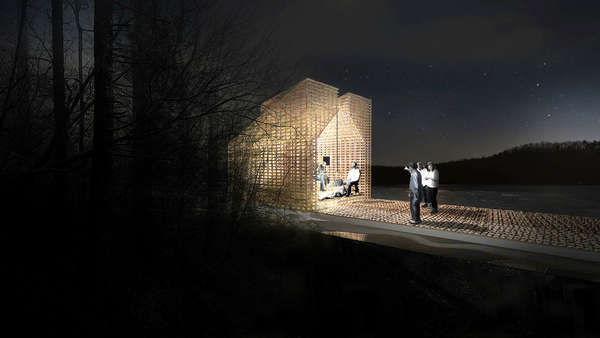 Cabinette
Cabinette is a conceptual wattle and clay structure designed for the 2015 Yeats summer event competition in Sligo, Ireland. The pavilion is composed of a gridded 9×9 matrix made with purple willow. Each frame is filled with turf (clay), which is continuously burned throughout the summer to scent and provide warmth for poetry readings. The pavilion is designed in response to W.B. Yeats' poem The Lake Isle of Innisfree, written in the late 1800s about the city-bound Yeats' dream of being in a cabin on the island.

Cabinette aims to express Yeats' visions of longing for nature from the orthogonal confines of the city. The tension between urban and rural is produced by combining both cube and cabin into a single hybrid. From one view, the cabin disappears within the cube; from another, the shape turns into the building.

The poem's sound of lapping water translates to the pavilion's water front location, which also allows for easy transport and accessibility for festival goers. Due to the site's ecological sensitivity, Cabinette docks on an integrated artificial pier. The piece is temporary, lightweight (floats), and able to be prefabricated on the main land before transport and turf -stocking.